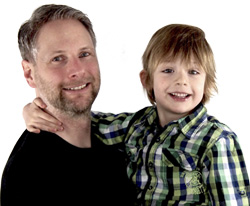 "When I have a vision, I just have to realize it!"
Dear learners and teachers of German grammar!
My name is Peter Heinrich, I am the founder of "CleverGerman.com – learn German smarter!"
It's still a dubious thing with internet, when there isn't a renowned company behind it. You'll probably ask: "Who is this guy?"
What are his qualifications to make you "learn German smarter" on this website?
And of course you're completely right to question this.
Therefore I would like to introduce myself, and tell you a bit of my life.
I'm born in 1972 in a village in the Südpfalz area of Germany. At the age of 15 I started an apprenticeship as a communication electronics technician at the German Telekom, and I worked there until 1992.
Then I quit my job and caught up with my A-levels during 4 years.
In 1996 I started my training as a teacher with the subjects German and Philosophy. Tubingen was my first "international" city as there are many students from all over the world. In 1999  I started teaching German as a foreign language. Since then I have realized being a part of a globalized world!
In 1999 I went to the Washington University in St. Louis, USA, for one year. There I graduated as a Master of Arts in Germanic Languages and Literature and of course I also taught German as a foreign language in the Univerity-College.
Afterwards I felt Tubingen was too small for me and I went to the Technical University of Berlin and there I did my first state examination of German and Philosophy in 2005.
During my academic education, I have constantly taught German as a foreign language at several language institutes such as the European college for languages in Berlin, at various  adult education centers and primarily at the a Hartnack College, the biggest private language school of Berlin.
It was there in 2002 that everything started with my passion for mnemotechniques for German as a foreign language.
And- one can't word it differently: since then up till now I've worked at it  continually and refined the methods
I have conducted article-courses continually; at the Hartnack College, at the adult education center Berlin-Mitte, at the Carl-Duisberg-Center Berlin and at the adult education center Flensburg.
And what's going on now?
At the moment I live with my wife Birte and our beloved son Maynard in Geisenheim (Rheingau) and I am a high school (Gymnasium) teacher of the subjects German and Philosophy / Ethics.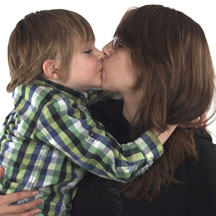 And which vision do I want to realize?
I want to perfect my personal ideas of truly innovative learning aids for German grammar, and make them available for you and this independently from any publishers, who often have their own ideas of what should be marketed and what not.
At the same time I want to provide you with an exchange platform, that also can  be used to sell your own electronic materials (if you are a teacher).
Working on my projects my passion for technology and computers is really helpful. Thanks to the internet I have the opportunity to work selfemployed and take my own decisions.
Hereby my passion for technology and computer serves me well. The internet offers me the possibility to work independently and to make my own decisions. When you're looking for innovative ideas, you'll find some concepts here, that are not profitable for big publishers. When you have developed your own materials, you have the possibility here, to let the free market decide, instead of having them scrutinized by a publisher.
I wish you a lot of fun when rummaging through this website. When you have questions, suggestions or critiques, please feel free to drop me a message.
Thank you for your interest;