How Students learning German with these special German Worksheets FINALLY learn to SPEAK GERMAN!
The question is:
when are you  finally going to use it?
If you have also been looking desperately for those wonder-worksheets that will encourage your foreign language students to actively use fundamental structures in their speech, these German-worksheets are probably the most brilliant thing you could find.
Dear friends of the German language, students AND teachers!
Please allow me, as both a teacher and a colleague, to ask you the following questions:
Is students learning to speak German one of your most important goals in German lessons?
Do you sometimes find that students work hard at learning German grammar and yet still cannot speak German very well?
Do you, as a teacher, feel it is difficult to find material that will guide your students when SPEAKING German?
Do you, as a student, sometimes have the feeling that you are simply overwhelmed with conversation exercises?
Do you often search for worksheets that will practice straight-forwardly linking German grammar and language, but unfortunately cannot find anything suitable?
Do you, as a teacher, sometimes have the feeling that your students would learn to speak German a lot quicker if you had special materials with relevant and grammatically accurate set exercises?
Would you like to occasionally get away from the rigid structure of the classroom and let your students work independently in small groups?
Do you sometimes long for perfectly organized materials so you can quickly find the right worksheet for the exact German grammar rule you need?
And also find the one that matches the exact learning level that you're at?
I am quite sure that you recognized some of these questions again and again – why? Merely because I myself and surely all other teachers of German grammar and also students have exactly the same needs as you. We want effective teaching and learning materials on hand NOW, and without having to spend ages preparing! Well, it remains that most of us teachers are left with materials we've accumulated after years of work.
And of course as a student you depend on what your teacher gives you. In a lot of language schools (although by no means in all, as I unfortunately had to experience myself!) there are perhaps some shelves with different German grammar worksheets and German teaching materials on them, but the stuff is usually pretty unorganised. It took many hours for me to get an overview; most of the time I still had to put something extra together. I think you know what I'm talking about …
What a luxury it would be if a German Language School had their own editorial office, with worksheets developed to suit the school curriculum exactly! So there I was at the "Hartnackschule Berlin", the biggest private school for German as a foreign language in Berlin. For every level, there is a folder that contains tailor-made German grammar worksheets for every lesson in the textbook. Dream situation, no?
Dreams are good, but not quite good enough!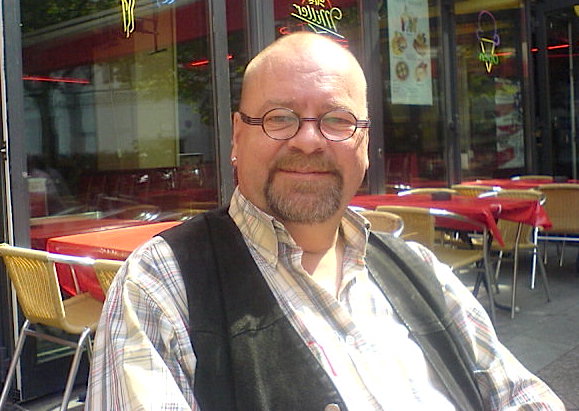 Bernd Arlandt
from Berlin thinks exactly that!
Bernd puts his heart and soul into teaching German, and I have always envied his dedication and the adjoining affection from his students.
Although Hartnackschule has its own editorial office with nothing else to do but design German worksheets for the entire language school, Bernd still wasn't satisfied; he is simply too much of a perfectionist. Hey, lucky for us :)
Bernd simply finds it too boring always reusing the same German worksheets with some gap-fill exercises. If possible, he wants his students to quickly learn how to SPEAK, he wants to stand back and see his students work together in groups. He wants them to develop creative and spontaneous dialogues, to discuss game rules, to inspire each other and improve in doing so – and above all, he wants the students to have a laugh together!
Sounds a bit crazy, right? Well, it is. It's completely apparent that teaching material capable of meeting such needs don't grow on trees. So he sat himself down at the computer …
Over the years, Bernd has finally produced his own German grammar worksheets after testing again and again what does work and what doesn't work, until in the end he had accumulated several folders of work that had proven themselves in daily teaching practice. This 'crazy guy' in fact spent hundreds of hours producing these originals!
The funny thing is how his colleagues have responded to his tireless efforts. Over time, his German worksheets turned into an insider's scoop. "Bernd, you wouldn't happen to have anything for Dative prepositions?" …
If, until now, it's been difficult for you or your students to find suitable situations in which to speak, I can well understand it. Most of the time the step from grammar exercises to free conversation is simply too big. And usually we all have too little time to sit and think up specific exercises, right?
What exactly is the genius behind these Worksheets?
I shall tell you more about Bernd's German worksheets right away. But first, surely aren't you interested in what makes these worksheets so extraordinary? Now, the trick is that Bernd has organized his worksheets into a table structure. Every worksheet is split up into 16 fields and in every field you find an exercise. Here's an example of simple sentence structure exercises based on the topic 'Eating':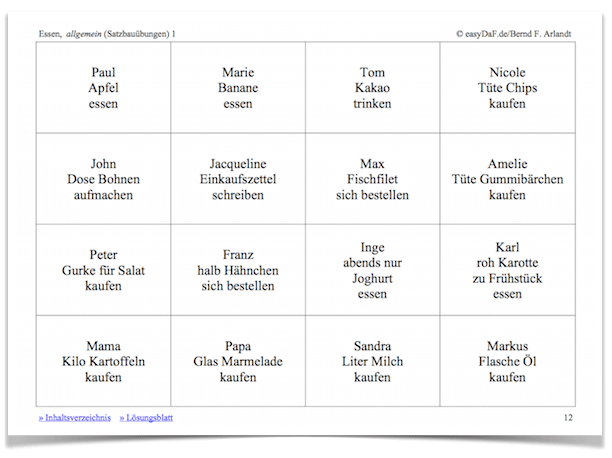 So the worksheets are completely flexible! You can have your students cut up the fields (takes 2 minutes!) and you already have individual exercise cards. This means your students can work together in small groups and play in different ways and check each other and improve on their own! You have hopefully realized by this point, that simply talking about the game itself is already a speaking exercise :). You can also use the worksheets simply as they are without cutting them up. Students can use the sentence structure exercises to freely and slowly work through different levels of difficulty.
Bernd´s German Grammar Worksheets quickly became the insider´s scoop at school
Eventually no one wanted to use anything but his worksheets and Bernd himself proved especially helpful. Of course he was personally concerned with how people found them as he had invested a large amount of time and effort in creating them.
So he sought time to talk with the school principle and present his concept to him. And above all he said that he had a whole folder full of these materials.
After thorough quality checks, the school principle was so impressed that he bought all of Bernd's material without hesitation and for a very fair price!
For what? I'm sure you understand that I cannot disclose such information here. Basically negotiations were based upon the amount of working hours Bernd had spent on creating his German grammar worksheets. Suffice to say there would have been quite a lot …
It was down to a happy coincidence, after I eventually left the Hartnackschule and to now teach at a grammar school and I created this website. When searching for new genius products, my old colleague immediately occurred to me!
I called him up and made the suggestion of putting all of his material on my website to make it available worldwide and to earn himself something that he deserves – and Bernd was immediately excited! "I think it's a great idea", he said, "I'm in!".
Well, he didn't need to tell me twice. Wasn't it a happy coincidence? We got to work together instantly and put together the first folder with about 180 German worksheets for ALL the relevant material for level A1 of the common European framework. WOW!
This folder really contains EVERYTHING you need as exercise material for the Level A1.
German adjective declension
Learning and practicing adjectives
Prepositions (accusative-, dative-, two-way-prepositions)
Definite pronouns (Hast du meinen Kuli? Ja, den habe ich.)
free sentence structure exercises
Conjunctions (Position 0)
Personal pronouns (ich, du, er/sie/es …)
As I said: even Bernd himself for the entire two months of A1 didn't have to use any additional exercise material. The folder simply contains EVERYTHING that you need.
Only with these German worksheets will your students really become ACTIVE
During my search for German grammar worksheets, I have already seen so much, a lot of which was obviously good. But in the end, all too often I still had to put together my own exercises because most of the worksheets just didn't satisfy me for some reason.
Bernd's German grammar worksheets are exactly what I've always been looking for! They offer an unbelievable amount of exercises, superbly organized according to every Topic that should be taught on the Common European Reference Framework, offering increasing levels of difficulty and, above all, making your students ACTIVE in their learning. Ultimately, only they themselves can really learn how to speak and slowly become more and more independent.
In addition, their content is completely based on real life. Every single sentence basically allows you to use it identically in practice. Also, they're often funny – even when taken completely from every day situations!
So, the worksheets are not made up of artificial sentence structures simply thought up by someone for the sake of cramming on a particular grammatical trick. I think you know exactly what I mean… :)
And so here YOU are, having never even heard of Bernd before and yet in only a few minutes you could be using his German worksheets in your own German lessons!
You can quickly gain access to huge amounts of exercise material
Practice steadily, with focus and how it suits you for each German grammar point. For example, you can practice the Perfect tense with just weak verbs, then only with strong verbs and finally practice mixing both together.
Your students can busy themselves for a while with a few handouts and their other classmates as they can check themselves with answer sheets.
Your new main task in your German lessons is to foster independent learning with small groups.
Your students learn 100% authentic and immediately practical examples which will be familiar through previously learned grammar topics.
Because of the table-structure arrangement the tasks can be cut up as you like to be used as ACTION CARDS
The cut-outs go over your students' German learning again! :)
Don't fancy the cut-outs? Then simply leave them as they are. They work just as well, if you want to save yourself the trouble.
Now for some advice: Take care that your students don't want to simply fill in the gaps. They must recite complete sentences and write them too!
As time flies by, your students' learning is guaranteed as they are being ACTIVE the whole time.
The ingenious design of these tasks will lead your students step by step towards more creativity and activity.
Your students will be pleasantly surprised by how they find themselves suddenly able to speak German so much better than students in other classes.
Everything is immediately organized for you clearly on your computer, so you can find whatever it is you're looking for INSTANTLY
The easy hyperlink structure takes you to the exact worksheet you're looking for with only a simply click. Just print it out and it's ready for use
Who exactly are Bernd´s German Grammar Worksheets made for?
Bernd's German Worksheets are solely for those,
who want every worksheet they'll ever need for level A1 immediately at hand.
who want to introduce their students to German grammar right from the beginning (from A1!) through carefully coordinated GERMAN SPEAKING exercises.
who understand that, when learning to speak a language, students need clear structures in place right from the start in order to secure their learning over time.
who appreciate the fact that German worksheets have to offer immediately applicable, realistic and amusing phrases.
who want to simply stand back and instead allow their students to work together in small groups.
So if you want the simplest and most risk-free way to finally have the perfect worksheet immediately to hand, do not hesitate to get these materials.
Who should maybe not begin with Bernds German Worksheets?
Well, you shouldn't rely on these materials if:
You prefer to carry on making your own materials each time.
You already have a full and perfect collection of ready-to-use exercises.
You have not quite understood that your students need a prepared structure in place to slowly but surely learn to speak German freely.
You prefer to be in control all the time in the center of the classroom and your students would rather not work alone in small groups.
So, I advise you to only invest in Bernd's German worksheets if you have understood how important good and flexible exercise materials are.
What differentiates Bernd´s German-Worksheets and other German grammar worksheets?
At level A1Bernd exclusively uses these worksheets. You will require no additional learning materials.
The German grammar worksheets are clearly split into grammar topics and are therefore compatible with other work books as further practice material.
You can even practice specific prepositions individually.
You can immediately download the material as a PDF file to your computer. The contents are ordered so there won't be any long searches to find the material you need.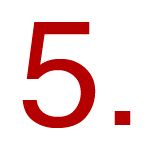 Bernd's worksheets can be applied in education and learning in countless ways.
As a colleague, I'm pretty sure that you – just like many of our colleagues at the Hartnackschule Berlin and me of course – are pretty interested in the learning-package. Now you'll ask: how much does the package cost? As previously mentioned, it's all about the Master-Copy. You can copy the worksheets as many times as you like and hand them out to all your students. You can only begin to imagine the amount of time and effort Bernd has put into these worksheets and it will become clear to you how much energy has been put into the whole project when you see them. Considering the effort that's been put in, it's hard to put a price on the package. But think about how much a complete set of files with about 180 worksheets and over 2700 practice exercises would be worth to you. Never look for worksheets again! An unbelievable variety of applications! Would you pay 100 Euros for the package? Probably not … How about half of that?- 50 Euros? Hey, you probably still wouldn't. But let's not hold you in suspense any longer… For just 27 Euros you can download these files straight to your computer and use them in your lessons or for your own studies of German!
If you order today, you will receive these 3 additional BONUS-Products
Bernd´s CONTEXT-Worksheets
With these 28 additional German grammar work sheets you have a total of over 400 grammar exercises as well as vocab lists for the key topics: "Relationships and Family", "School", "Clothes" and "Food." For the "food" topic, specific vocab lists for ingredients, condiments and packaging are included.
ANSWERS for ALL the exercises
I am particularly proud of this additional bonus product, having spent most of my time in the last few months writing all the solutions for the worksheets!
Only now you, as a German language learner, you can work independently at home and go over the specific topics that are most important to you! With the click of a mouse you can check your answers immediately after you've completed the exercises. You should use this to your advantage!
Bernd´s template for your own exercises
Bernd has unquestionably accomplished a great deal. However, every teacher has different ideas on how to shape a course.
Naturally, you'll have your own needs whilst teaching and might even have new ideas for language exercises with your German students.
With the template for Microsoft Word and Open Office programs you can easily construct your own worksheets. In the tutorial I show how you can extend and vary the exercises and in an additional video I explain exactly how the template works.
If you already know me or have perhaps bought products from me before, you will know that 27 Euros is a fair price for this material and that you can't go wrong – why?
Well, I am absolutely convinced of the high quality of Bernd's worksheets, as much as all of the other easyDaF-Products. In the following video you can get a quick impression of the product for yourself.
By the way, there is one more thing to add to all this: I offer a full
60-Days-Money-Back-Guarantee
to all customers, taking away any risk and leaving you to try out the German grammar Worksheets in peace.
What does this mean exactly? Quite simply, should you not feel totally satisfied with the worksheets, you can send an email to our Customer Services and you'll receive a no-quibble refund at the full retail price. You'll find a link to the customer service department also in the navbar on my Homepage.
Believe me when I say that over the years, Bernd has put the utmost effort into his worksheets. He uses these worksheets all the time and has absolutely no doubt that they will be as effective for you in your German lessons as they have been for him. This is why Bernd was so happy to agree to the money-back guarantee.
We can't make you a better offer. In fact, I'm absolutely sure that you won't come across a better offer. If you know another company that can offer the same product under the same conditions, please let us know! …:)
Are you now ready to receive a comprehensive package of German-Language Worksheets that you can use during your entire teaching life in numerous ways? If so, it's now in your hands …
Just imagine how your learning or teaching of German could look like in the Future
Whether you have just introduced the accusative or are teaching about the prepositions that take the dative case, you always need to reinforce the teaching with additional practice. You need more than the exercises that are provided with your old textbooks.
So you return home and go to your computer. You open up your Bernd's Worksheets pdf file and search for the dative preposition "aus" for example. In your search results you will find two worksheets specific to this preposition, with a total of 32 individual exercises about sentence construction and dative declination.
You smile, print out the two worksheets and look in Bernd's Manual for Teachers to find out how you can use them. Once again you smile as you see your students sit in small groups, playing a card game based on dative prepositions. As your pupils say sentences, you see how they correct one another, discuss the sentences and write down the correct answers.
Your role is quite simply to go from table to table and assist the groups if they have any difficulties. In no time at all half an hour has flow by, and everyone will wonder where the time went.
At the end of the lesson you perhaps field a few questions and everyone goes home happy, with the feeling that they've really learnt something from you …
Here is what my customers say:
If you wanted to explain everything about Bernd's Worksheets, it would take too much time. It would be an endless story of positive tales. It is simply fantastic!
I used it today in a lesson today. We practiced adjective declinations with it. Through the hidden repetitions, the students were able to memorise the rules much better and found the exercises really enjoyable.
I find that Bernd's worksheets go excellently with Peter's learning materials.
I practiced finding the genders of nouns with another group, showing them a few of Peter's pictures and then leaving them to practice with Bernd's worksheets.
As has been said, if you present something visually, it will be absorbed more easily and then learnt straight afterwards.
I can happily extend my recommendation for Bernd's Worksheets as well as Peter's learning materials.
Best regards to everyone!
Hello Mr. Heinrich,
Many thanks for the teaching material!
On the first flick through, it appears to be, what I have always been looking for; Teaching the pupils grammar and speaking in an fun way. The numerous worksheets are an unbelievable time-saver. Time, that I can now spend doing more work with my pupils.
I can hardly wait to use the learning materials in the classroom, in the coming weeks.
Hello Peter,
With this package, Bernd has really hit the jackpot. To me, what's fascinating about Bernd's material is that it is so flexible and can be applied in so many different ways. As worksheets they are excellent and also the practice cards, which the students enthusiastically play with in a number of ways.
Hello Peter,
I think that Bernd's Worksheets are very interesting and versatile, because one can se them in so many different ways. One can simply copy the sheet and give them out to the students, or you can cut them into small cards and play games with them. There are lots of worksheets therefore many points of grammar are dealt with. This is super because with Bernd's Worksheets I have more than enough exercises to teach level A1 with. I also think that these exercises are more interesting than the typical dialogue and role plays that we normally do with our students. For me at least, it has brought something new to the German language course.
Dear Peter,
I love Bernd's Worksheets. They are so practical for my lessons! I would be interested in any further installments.
Hello Mr. Heinrich,
I look forward to using Bernd's Worksheets in my lessons. Initially, I doubted the much-praised usefulness of such simple materials. But now- after a trial lecture and lesson plan- I realise what is so fantastic and unique about these worksheets. It is really hard to combine meaningful education with enjoyment when teaching grammar and conversation, but these worksheets achieve this almost on their own!
Hello Mr Heinrich,
Best regards from Cyprus! I find the worksheets to be very practical. I'm definitely going to try them out in my classes where the main goal is communication. The master copy really helps. Many thanks once again and good luck!
Hello Peter,
I have received the worksheets. At the beginning of the week I was very, very curious to see what the worksheets were like and how I could apply them…
I received the link and I am totally thrilled! These worksheets are simply amazing. The sheets have up-to-date information and are not made just for grammar.
I will use them lots and I'm absolutely convinced that my pupils will also love them.
Hello Peter!
Here is my feedback: Excellent! I'm particularly interested in prepositions. I find a good mix is to have the freedom to make sentences with just one noun on one page and on the other, clear instructions for indefinite and definite articles with prepositions. I will also try out the idea of using small work groups. Until now we've only done exercises as a class, alone or in pairs. Many Thanks and Merry Christmas
Hello Peter.
Many thanks for the many interesting materials and inspiration in the learning packageand from Bernd's Worksheets. As was promised these worksheets are very practically orientated and provide a type of exercise that I would have otherwise had to come up with myself. I enjoy that, but it takes time.
Because I teach adult students in an institute of commerce in France, our main priority is to teach our pupils how to SPEAK the German language. For our pupils this is most important thing because they often require it in their job or sometimes for personal reasons, but active communication is always the priority.
The worksheets are excellent for the active group work that we do, which trains our pupils in communication in a foreign language. I also think that the small specific learning steps are important as you can target particular areas. I see again and again, how much the pupils need this training, in order to use the learned structures in free conversation.
Hello Peter,
A heartfelt thank you for the worksheets. I really think they are good and the students will enjoy them!
Dear Mr. Heinrich,
I think that with these sheets I have an excellent aid for my everyday teaching. From my experience small, coloured pieces of paper help students of all ages to grasp the important topics and increase their enthusiasm for the topics.
I look forward with curiosity to the levels that follow but I understand how long this wait could be, as it is clearly a great deal of work.