How do you learn German Dative-Verbs?
You have probably already watched the videos of the grammar crash course, and I hope that you have understood the principle of visualization and the artificially created context of abstract rules.
In the one of the videos, you learned how much easier it is to learn the two-way-prepositions when you visualize them in context.
Colors can be very, very helpful, and you can learn a lot more with them than only the cases of two-way-prepositions.
Another very important area of ​​application is the use of verbs (verb regimen)! As you probably already know, every German verb also uses a specific case. This is very abstract for many learners, and they often do not know whether a verb uses the Accusative, Dative, Nominative or Genitive.
That is why in my Deutsch-Elfe® Package I not only developed a color for each case, but also a nice character representing the case. This way you can use MNEMONIC example sentences to learn which case a verb uses.
I. E. I developed the Dative Dragon to assist you with the Dative. Here he is: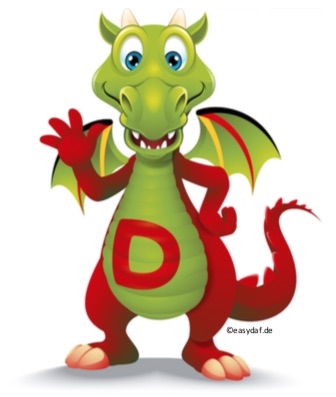 With the Dative Dragon, we can now create mnemonic example sentences with which you can memorize this rule very easily.
For the most important Dative verbs I have already thought up such example sentences for you and printed them on flashcards. Here is an example of how it works.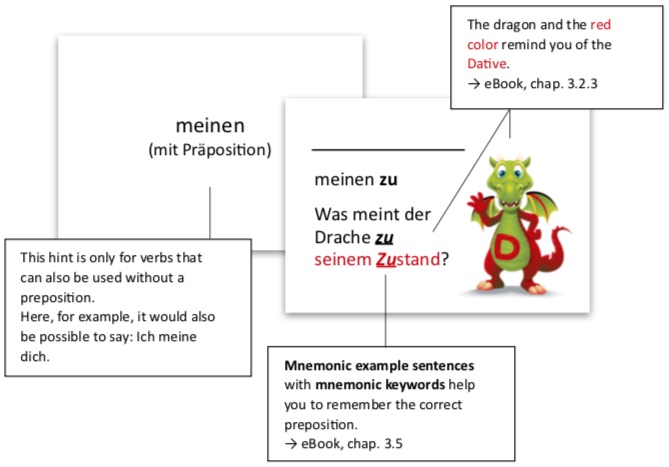 All you have to do on the blank line is write down the translation of the verb in your mother tongue. You can easily print out and cut out the flashcards yourself.
If you choose the Deutsch-Elfe® Package PRO, I will even send you thick, perforated paper for your printer BY INTERNATIONAL FREE SHIPPING, so that you can easily print out and break out your flashcards without scissors!
This is how the perforated paper comes out of your printer: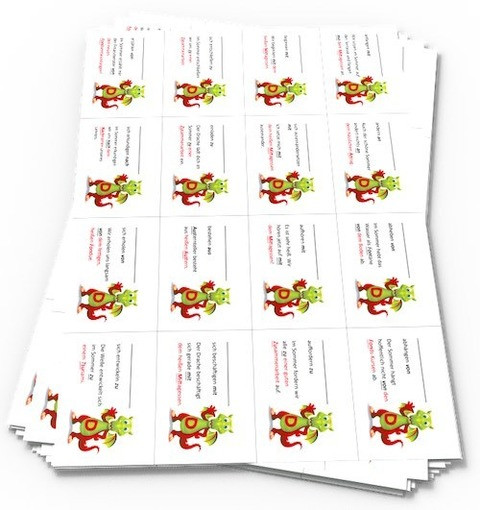 The package contains a total of 325 "difficult German verbs" with mnemonic pictures and example sentences for:
irregular verbs
verbs with preposition and Accusative
verbs with preposition and Dative
verbs with Dative
verbs with Genitive
In the e-book "Learning German with Mnemonics" that comes with the package, I will of course explain the mental tricks that you can use to work efficiently with the flashcards. And of course I will explain exactly how to find out which case a verb uses.
I am sure that with these learning techniques you will master the most important verbs for your daily use much faster.
Please have a look at my great new BILINGUAL (German / English) Deutsch-Elfe® Package for German as a foreign language: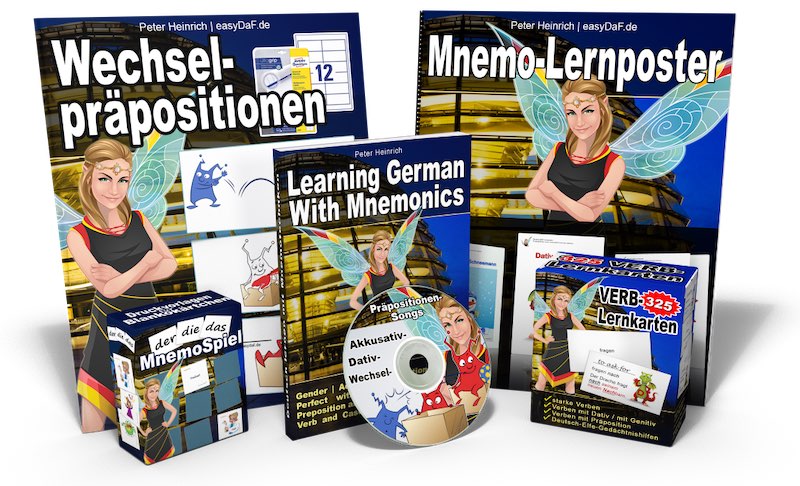 I wish you continued success in learning German!
See you soon;
—Peter