In this introduction to mnemonics for German grammar, you will learn simple tricks that will help you remember grammar rules much better.
Dear Mr. Heinrich,
With your memory crash course I realized that all the years I had been wrongly taught German grammar and learning methods :(. Now I know what I can work on and what I have to learn. It is still a bit difficult to implement , but I'm seeing progress. It's a shame that I didn't find her sooner, so I could have done a lot better.
Greetings
Elif
Your crash course was the most vivid and best experience to confirm that there are great teachers like you who are deeply and practically well-versed in learning and its methods, simply because they can honestly, seriously and consistently follow their calling with them thank you forever.
ATTENTION ! :-D
What I am writing right now is not only a flattery, I´m serious.
I learn German every day and work as a volunteer (language assistant at the German meeting point of the ÖIF in Vienna).
I love to do grammar teaching and, according to my colleague Lisa, what I do makes a lot of sense. I just have a lot of fun teaching the grammar and I will have more fun with your material. I'm convinced of it !!
Greetings from a Madrid girl who loves German; – *
Érika
For me, this crash course sets the standard for effective and high-quality teaching.
Peter perfectly illustrates the basics of successful learning and has again managed to inspire me and my students to dare to tackle the most difficult and abstract topics in German grammar.
His memorable explanations and examples for the prepositions and subordinate clauses can be wonderfully demonstrated in class and the eye-opening effect observed in the pupils' eyes.
The course is a pure source of inspiration, motivation and the challenge of actively and creatively contributing to your own learning process and making it successful.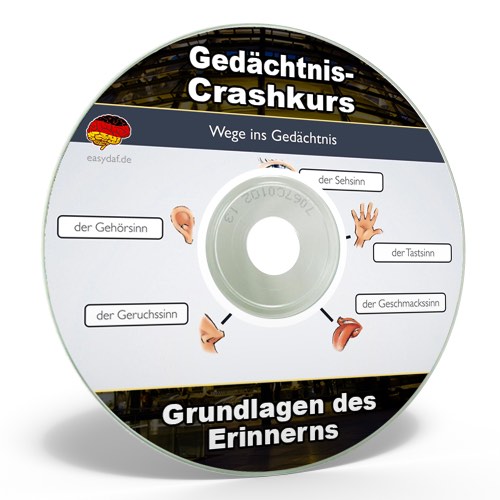 Foundations of Memory – The Big Mistake in German Didactics
In this first part (24m: 24s) I explain to you the circumstances under which we best learn new things. You understand why you simply cannot memorize some content – such as grammar rules.
Finally, I explain to you the big mistake in German didactics. This is also the reason why you cannot expect help with learning in a language school. Ultimately, it is up to you how successfully you will learn German!
The videos are great. Peter speaks slowly and with the English subtitles I understood 100%.
Mnemonics are the best way to learn. I am amazed that no teacher uses this method.
Thanks Peter!
Which preposition uses which case?
In this second part (13m: 01s) we are going to go in detail! I explain all the entries in the dictionary using the example of prepositions. You will quickly see why it is not so easy to learn which case they are using.
With a simple, but very efficient learning technique, it is much easier to remember. Even two-way-prepositions will suddenly be much easier to understand.
With this video you even get two learning posters to print out :).
German language was my "love".
Unfortunately, there are fewer and fewer students who want to learn German, and this happens mainly because of their difficulties.
I tried different methods: theater, hip-hop, art, etc.
I think your "memory crash course" is special.
I congratulate you for the ideas.
Thank you very very much.
Kind regards,
Daniela Dinu
Construct understanding and never forget anything!
In this part (11m: 56s) we go one step further! You will learn an ingenious method with which you can learn the most important "subordinate clause conjunctions", subjunctions, PERMANENTLY in an almost magical way.
I am sure that this trick will surprise you extremely and of course convince you of the use of mnemonics!
The course is exciting and logical, to improve memory, especially the video on subordinate clause conjunctions is phenomenal!
Subtitles in German and English!
Correct – all videos – almost 50 minutes in total – have subtitles in German and English!
You can decide at any time or even disable the subtitles completely. If you are learning German, this is an additional exercise for you :).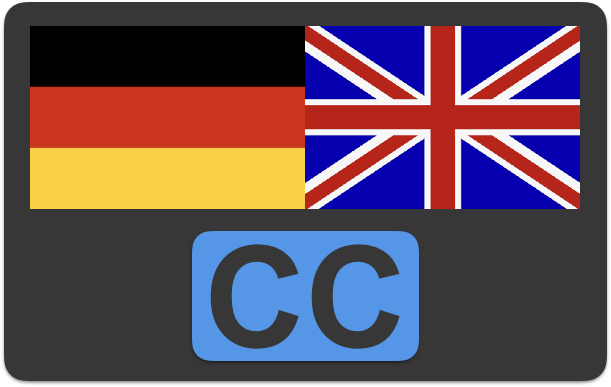 I want to learn German because I want to study music composition in Bern. Your course is a very innovative way to learn a language.
Many thanks and kind regards.
Ezequiel Cappellano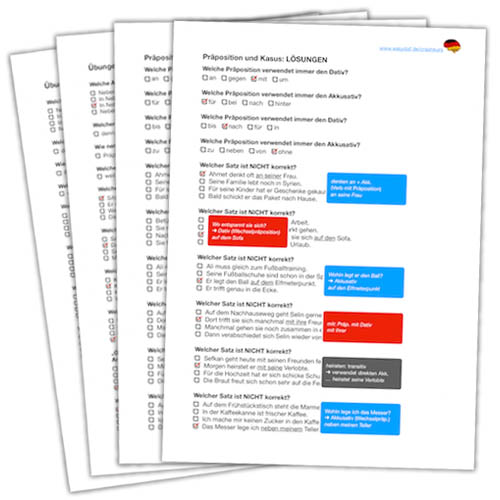 Test yourself online or download worksheets!
You can carry out online tests on the two topics "preposition and case" and "conjunctions / subjunctions".
You can also download and print out both tests including answers.
If you teach German yourself, you can wonderfully combine the videos with the worksheets.
What I like about your seminar is the easy-to-understand explanations and techniques with which I can memorize the grammar rules better and faster. I am no longer young, I am already 58, I have learned a lot and would like to refresh and expand my knowledge of German. This is very important to me because I want to work in a German company here in Bulgaria soon.
Hi Peter!
I really liked the new crash course! I think it's great that they keep improving and redesigning their tips. The mnemonic pictures are particularly creative and interesting. I am sure that they will be useful for many German learners. The use of colors is simply indispensable in German classes, and I also like to use this method often and with pleasure.
I summarize again for you:
Login über Mitgliederbereich
You can log in via my new member area and thus have access to the videos at any time – with any computer or smartphone!
Wichtige Grundlagen in drei kurzen Videos
In this crash course you will learn in three short videos how easy it can be to learn German grammar if you know the right creative techniques.
Untertitel auf Deutsch und Englisch
All videos have subtitles in German and English! You can switch at any time or disable them entirely. So you can also train your listening comprehension very well.
Untertitel auf Deutsch und Englisch
Test yourself directly online or simply download worksheets including answers and print them out.
Verbs with preposition
Our member Igor asked a very important question about two way prepositions. The answer to the question has to do with the phenomenon "verbs with preposition".
I also recorded an additional video (11:31 min.) In which I explain exactly what verbs with prepositions are and how to recognize them in the dictionary for German as a foreign language.
I am Šarūnė from Lithuania and have been trying to master German for two years :) Not everything was as easy as I expected, so I was very happy when I found a 5-day video seminar.
I can honestly say that I am not expecting to see a handsome man with a very deep and crystal clear voice and easy to understand pronunciation. What could be better? :)
Yes, of course, he explains German grammar very clearly and gives lots of special tips!
I have been trying to learn German for some time now, including strudel baking in Vienna. This course really accelerated my understanding of German grammar and learning methods! Thank you so much!
It took me around 100 hours to produce this course!
Therefore it is "actually" almost not affordable :).
So you should definitely take the chance!
The course gave me a lot of fun and knowledge of German language skills. The donkey bridges have also given a lot of insight.
I think the crash course is great! Just like you, I want to work independently. I once rejected the offer to teach at the university. The reason was – the ancient books and methods that should be used […] This year I started teaching again and I am actively interested in modern methods, modern learning techniques. I am sure that I can also help others to master a foreign language. What you offer is the best I've found so far. Thank you very much for your effort!!!
Hi Peter!
Thank you very much for your work!
The techniques you put on your website are really good!
I only finished my last German course I did in Berlin last year and I know how difficult it is to remember even the simplest things!
Back then I also told my classmates about your learning method and your side!
It was super interesting for me and others!
Thank you so much!